When it comes to choosing athletic footwear, there's a lot to know. But first and foremost, just as you wouldn't wear basketball high-tops to play a round of golf, your walkers aren't meant for running, your runners aren't for weight training, and your cross-trainers shouldn't be your go-to shoe for grocery shopping.
For the non-professional athlete who occasionally runs, cycles, and hits the gym, a single pair of "sneakers" is often used across all fitness routines. And for a young, agile person, that may be OK. But the older we get, the more it matters what we wear on our feet. Whether you're hopping on the spin bike, shaking your booty at Zumba, or doing laps on the track, your footwear should fit your activity and support you properly.
Choosing Sneakers
Walkers
True walking sneakers are a valuable addition to any wardrobe. Fit for long walks on flat or mildly uneven terrain, a New Balance Optimum Control series walking shoe features:
Superior comfort
Wide, flat soles for increased contact with the ground
Medium arch support
Extra depth for bunions, hammer toes, or high insteps
Removable foot beds for adding custom orthotics
Long-lasting cushioning built into the base and upper
Roll Bar technology for additional lateral support
A walking shoe like this can easily transition to suit your daily walks, errands, and extended travel, because of the supportive nature which stabilizes not only the foot and ankle, but the whole body.
Premium Walking Experience
Runners (aka Trainers)
Running shoes are the most commonly mis-appropriated footwear, often worn by people seeking a "light, cushiony" alternative to their uncomfortable footwear routine. They're called trainers because runners use them to train. I can't tell you how many people I've come across who aren't even using them for exercise. The design of a running shoe innately has less support than a walker or a regular shoe, because its sole purpose is to absorb the ground's shock when performing high-impact activities, like jogging or running, and remain as lightweight as possible. When simply walking or working out at the gym, most running sneakers do not provide any lateral support (side to side), which ultimately puts your ankles and body at risk for injury and discomfort. Simply put: running shoes are for running and not much else.
Cross Trainers
A cross-trainer is another great addition to your shoe collection to be worn when in a low-impact aerobics class or strength training. Often featuring a rigid, flat-bottom sole, cross trainers provide great lateral support for moving quickly from side to side and bearing weight. The reasons you wouldn't want to go for a long walk or a run in cross trainers is simple. They are built with a much sturdier sole, lacking the additional cushioning which is used to absorb the shock from the ground. Therefore, your joints (ankles, knees, and hips, especially) will feel the major different if you go for a jog in a cross trainer.
Hiking Sneakers
Probably the most versatile of the athletic shoes is the hiking shoe. A hiker often features a more rugged sole for moving on rocky, uneven terrain, but is paired with a good amount of cushioning for shock absorbency in the insole. Additionally, a hiker has a sportier profile, lacking some of the contact with the ground that a walker or cross trainer would have for extra stability. However, this is often combated by a higher cut boot that directly supports the ankle. A great hiker like the Merrell Moab features:
Medium to high arch support for all-day wear
Removable foot beds that can be replaced, cleaned, dried after a wet hike
Mesh upper for breathability
Waterproof options
Tough, long-lasting sole with built-in cushioning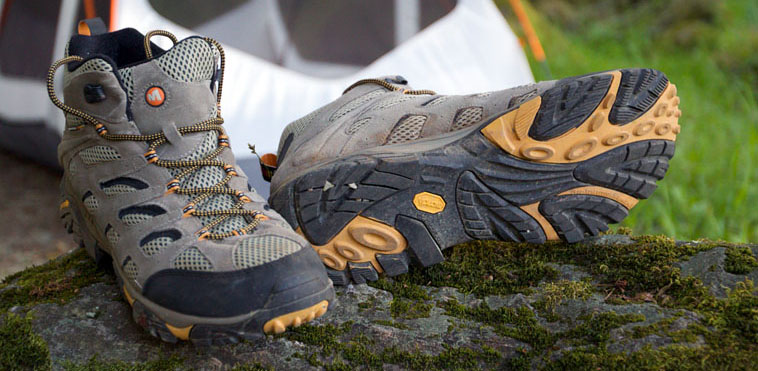 It's tough to imagine changing your daily footwear routine if you're used to throwing on a pair of Brooks and heading out the door. But we urge you: next time you do, please consider how those shoes will support you throughout your activity. Remember, not all sneakers are created equal.